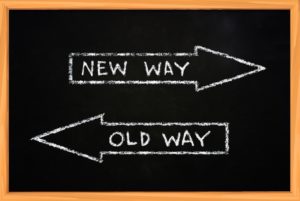 The famous spiritual leader and author Raymond Barker once said, "We stand between the old that is familiar and the new that is unfamiliar. It takes courage to practice this science… to grasp the new while letting go of the old." Familiar business tools, although comfortable and routine, may be preventing your company from achieving operational excellence. Your company's product(s) and brand mature constantly – so why shouldn't your business tools? Below, we discuss the pros and cons of refreshing your business toolbox.
CONS:
High Costs

Businesses use more business tools now than ever before. There are tools for accounting, marketing, customer relationship management, social media platforms, online reviews, document sharing… the list goes on. According to Siftery

, Uber uses 263 different business tools. The problem is that each tool comes with a price tag, and many come with monthly or annual subscription charges.
Scattered Data

Most business tools provide a solution to one specific problem (i.e. accounting or marketing). The data for a specific program remains in that software and must be imported for use by other programs or departments. Time spent transferring data between business tools adds up and can cost the company big bucks in employee wages.
Setup

New product implementation often takes months to complete. Setup involves importing data, teaching employees how to operate it and much more. Additionally, employees resist software change. They learn the ins and outs of a program and do not want to start over with a new one, often times for only incremental benefits.
PROS:
Save Money in the Long Run

With the right product, your company will save money in the long run. Yes, initial costs seem high – but increased profit margins cover initial costs, and then some, over time. Sometimes the difference between barely scooting by and operational excellence comes down to new business software.
Out with the Old

As with clothes, business tools go out of style. Business tool companies may go out of business or simply choose to discontinue one of their products. When your business tool is discontinued, trouble-shooting issues becomes nearly impossible and updates no longer occur.
In with the New

In this era, technology allows us to automate and increase productivity on a daily basis. Why wouldn't you take advantage of all that this new technology offers? Think about it: Your company works endlessly to improve its products, just like business tool companies. In order to maximize your company and employee efforts, purchasing up-to-date business tools is essential.
One example we see this in, particularly in the medical device, technology, manufacturing and engineering industries, is PLM systems. PLM transformed over the last two decades. First, in the late 80s, PLM solely focused on CAD data management. Next, in the mid 90s, PLM expanded to include Bill of Materials and Engineering Change Order processes. Finally, the most current 3rd Generation PLM solution also includes business tools for Executives, Human Resources, Procurement, Quality, Sales, Marketing and Field Services. Previous generations were typically used by only 10-20% of a company's employees. The 3rd Generation PLM appeals to 80-90% of employees.
As its history indicates, PLM systems constantly evolve to provide crucial updates for companies to achieve operational excellence. QuadRite's RitePro solution is an out-of-the-box 3rd generation PLM solution that can be deployed within days, instead of months. As a fully web-native application that is offered as a cloud or in-house solution, it minimizes the IT support need and enables ease of information access and sharing across the extended enterprise.
It's time to step out of your comfort zone of old business tools and make the jump toward operational excellence with QuadRite's RitePro.